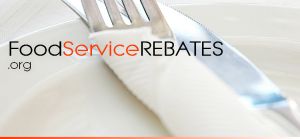 Food Service Rebates is the best online source for printable manufacturer operator rebate forms, coupons, free case offers, menu allowances, free merchandising materials & other promotions and programs for food service operators. Whether you represent a restaurant, hotel, school, college, healthcare, camp, or other institution, this is where you will find rebates on products you already use.
Visit the Main Website at www.foodservicerebates.org
Food Service Rebates is updated weekly with the new rebates and free case offers displayed on the Current Rebates and Free Case Offers home pages. The complete lists of all available rebates and free case offers can be viewed sorted by manufacturer or by ending date. Expired promotions will be deleted once the postmark-by date has passed.